Dispatch 1
Date: June 12, 2001
Location: Beijing
Hello from Beijing!
Hi, everyone. After starting out at 4:00 am on Monday June 11, we finally landed in our hotel room at a terrific hotel in Beijing at 11:00 pm Tuesday night. That's 29 hours of travel plus a 12 hour adjustment to the time zones. But we're here!
The route took us from New York to Los Angles, then after changing planes we flew up the length of California, around the coast of Alaska and the Aleutian Islands, across the date line and down the coast of Kamchatka, over Japan, then to Shanghai.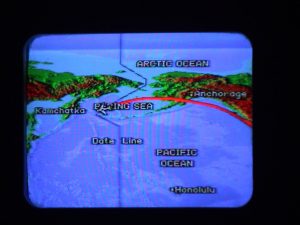 After clearing an immigration check in Shanghai, we got back on the plane and went to Beijing. These airplanes for transpacific flights are enormous!  This image was taken in night shot mode because it was dark in the cabin, but you can see that the plane is huge.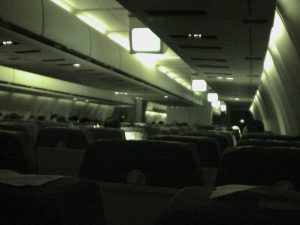 Our China Eastern MD-11 plane had 47 rows with 10 seats each. But without a doubt, the service on China Eastern is the best service I have ever had from an airline. For the 16 hour flight they constantly provided us with steamed hand and face towels, three very good meals, a snack, constant beverage service, Chinese movies and television, and even a complimentary toiletry kit with such things as a toothbrush and a razor.
After landing in Beijing, we were more than ready to get out of an airplane and onto our feet. Customs was a joke — we simply walked through without any check on anyone whatsoever. But I'm not complaining. We were met by Julie, our CHI guide for Beijing, and she hailed a cab and took us to our hotel.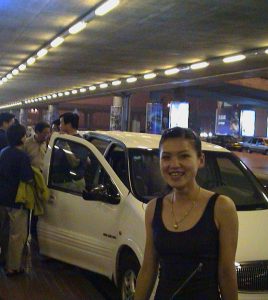 So far, everything we have seen of China has been new, ultramodern, clean, and very nice. The only hint we saw of anything third-worldish was a farm tractor in the middle of the city street near our modern hotel. The tractor was pulling a cart that was carring 8-10 men. How're ya gonna keep 'em down on the farm, now that they've seen Beijing????????
Tomorrow, we're going to the Forbidden City to see what we find. Anything that's described as "forbidden" is something we've got to go see.
Cheers!
Robert and Susannah / http://eleanorjean.com